Do you want to learn about wash basins? then we are here to pen down an article for you which will surely help you to select the wash basins.
Every washroom is incomplete without washbasins. A single basin can serve different purposes & it is a must for every residential or commercial accommodation. A washbasin cannot only be fit in a bathroom it depends upon the inside or outside the washroom, the area available such as a garden, dining area, kitchen area etc. What type of washbasin should we opt from so many alternatives available in the market? The best answer to this question would be that it relies upon the space, colour theme, layout of the washroom. The most popular type of basins available are like stone tabletop basins, stone counter-top basins & many more can be added to these list as choices are wide & varied. Earlier, washbasins were simply engineered, nowadays wash basin have advanced as are manufactured in dissimilar shapes like oval, leaf, square, lotus & so on. As time passed every consumer tastes & choices evolve therefore a broad array of stylish sinks are produced to make your washroom look vibrant. Numerous firm including stone & woods provide options for customization. If your family has members & multiple times sinks are used in a day then you must go for sinks which in tune with everyday life.
Before purchasing the sinks many factors must be considered as washbasin are only once fitted & serve long life. The factors which allow us to choose basin type are 
• Durability
• Match with the interior design of bathroom
• Colour theme of washroom
• Layout of your washroom
• Type of material for the sink
• Purpose 
Today there are different kind of sink which can be consolidated into residential or commercial places hence we are hereby mentioning the categories which are inclusive of both contemporary & modern stone washbasins from these you can choose:
WALL MOUNTED /HUNG STONE WASHBASINS 
If your washroom size is small then you can insert the stone wall mounted wash basin which will be attached to the wall of your washroom having vivid designs available, you can choose your wall matching the colour of the sink which will make your washroom sparkling. You are finding small stone washbasinthen the wall hung stone basins will be best as it does not need any kind of pedestal support below it. They after proper fixing with the wall can stand without risk of falling. The advantageous point is it takes very less space & are popularly used in other than our home country like the UK, AUSTRALIA, AFRICA, CANADA. As due to small size constraint factors your sink become the focal point of your bathroom. Thus, embrace your bathroom world with stone & woods.
STONE COUNTER-TOP WASHBASIN 
It is also known as self-rimming or drop-ins. You want vintage washroom then do not rush here & the stone counter-top washbasin will be perfect for this. The advantage of fixing these type of natural stone washbasin is that water will not flow out of the sink. These kinds of washbasins generally used as it is structured in a way such as on a table put the washbasin, there are spades of shades & colour along with different textures manufactured that it can be used sophisticated as well as adding innovative appearance to your bathroom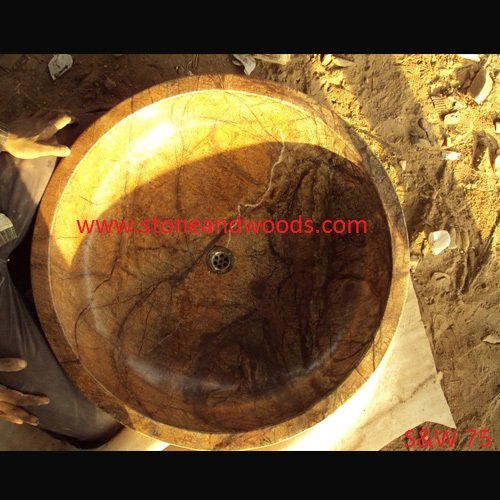 STONE PEDESTAL WASHBASIN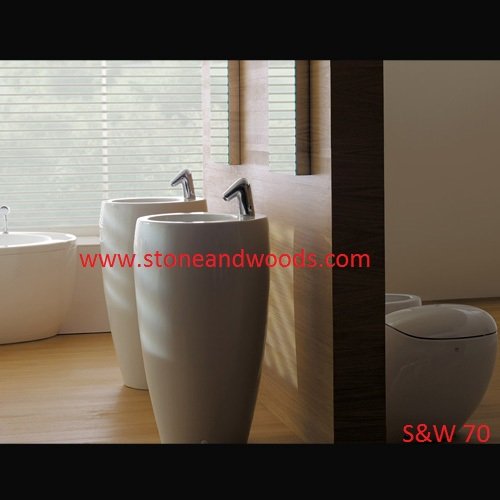 You want an elegant bathroom then go for these type of washbasins which not only function for you purposely. Due to hi-tech, on different natural stones, the basins can be manufactured in vivid designs like a round stone washbasin, leaf stone washbasin etc. Hurry up! what you are waiting for approach stone& woods.
NATURAL STONE WASHBASIN
If you want an elegant look then insert these kinds of basins which are easy to install & inexpensive also. The people who believe in basics willingly like to choose these kinds of sinks. It is available both in traditional & modern style.
Now, the important decision comes into mind that what material based washbasin should be selected? The best response comes out is stone washbasin as furthermore discussion is done for you as :
• For attractive look semi-precious stone washbasin which is expensive but beautiful also.
• For daily routine granite stone washbasin will be a good choice.
• For commercial places like office, shopping malls etc grey stone washbasin are commonly used.
• For glossy look quartz stone washbasin is used
We hope now that after this article you are able enough to choose the right washbasin which can match with your washroom aesthetically.