Wherever we go today, we need a place to relax. We look for a place where we can sit enjoyably between working hours and if it gives a royal feeling, it would be a cherry on the cake. It could be any like a royal handcrafted wooden sofa in the living room or a modern accent chair in the corner. When someone enters our house also, the handicraft wooden furniture can at once make their eyes shine. The wooden handicraft sofa set could be a good option to buy.
We manufacture wooden handicraft furniture for people keeping in mind their comfort and uniqueness. From antique looks to modern finish, there is every design that a person looks for including wooden handcrafted beds, sofa sets, loungers, recliners, stools, photo frames, side tables, drawer chests, and swings. We make wooden furniture which suits perfectly to every accommodation, house or office, or even a hotel.
The wooden carved sofa set range includes a single chair sofa, two-seater sofa, fabric chair, living room chair, living room set, modern sofa set with center table. The Maharaja chair set is also available which would add grace to the entrance of your hotel or even office and house.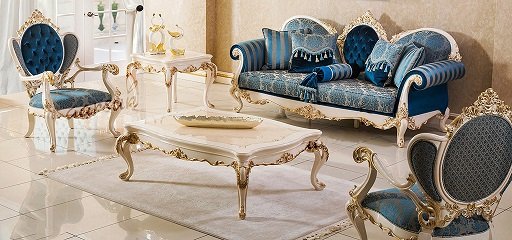 Benefits of getting a wooden handicraft sofa –
Permanence- Wood is naturally strong and can last for a long time. Wood soothes the eyes and completes the interior of a place. Also, the routine works demand taking into account the durability of the furniture in use and so wooden handicraft stands as the best durable product.
Easy to care for- Wooden furniture does not require intensified care. Wiping the dirt off with a cloth daily is enough to maintain the newness of the furniture. The handcrafted designs make it look less unclean.
Captures attention– Handicraft works always have an upper hand when it comes to seeking attention. Wood with its natural beauty and the handicraft designs can grab all eyes on it.
Worth investing- Wooden handicraft gives you quality, comfort, and beauty all wrapped together. Wood can withstand the environmental changes and has a lasting beauty which makes our investment worth it.
Versatility– Handicraft furniture can be a part of any theme, be it classic or modern. Wood can be mounted by white metals, silver sheets, brass sheets which ensure that the quality of wood and the beauty of metals both are taken advantage of.
It is important to see what material is used so that the wooden craft sofa set lasts long and looks good. The type of wood, the material used, polish used, play an important role in deciding what to purchase. Sofas must not only be comfortable but also durable and strong enough so that they do not break easily.
Types of sofa –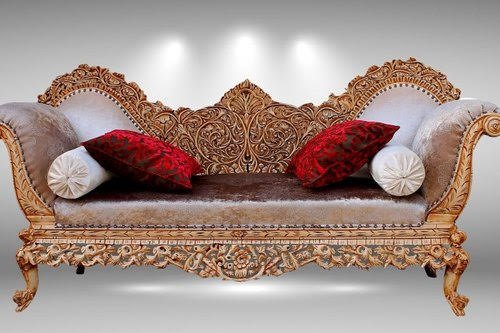 Wooden sofa sets are the most preferred as they give a traditional look and are sturdy and durable. Mostly hardwoods like sheesham, mango wood, maple are crowned with finishes like honey, walnut, teak, and mahogany to make the best wooden handicraft sofa. The sofa is designed with resistance to termite lifetime.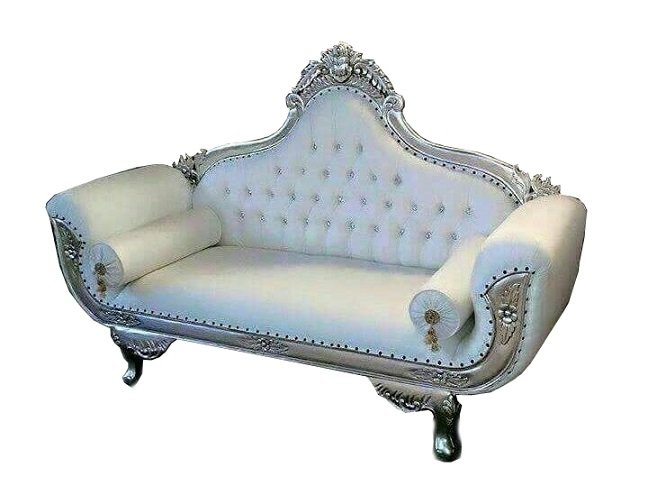 The white metal is also known as German silver but is not silver. It shines like silver. The white metal sofa sets are designed with utmost precision. The white metal sofa is made of high-grade wood and is coated with white metal leaf. It is carved with raveled floral designs that give a classic look that is never out of style. The white metal mounting gives a shine like that of silver and is also budget-friendly.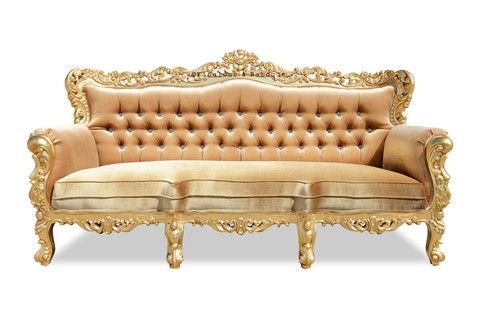 Brass was once seen as an outdated material, but it is back in fashion again. It can be considered as a replacement for gold. Brass is used to give a unique vintage vibe. The look of the brass sofa is minimal yet modern. The sofa is made with hardwood and is finished with the brass hue.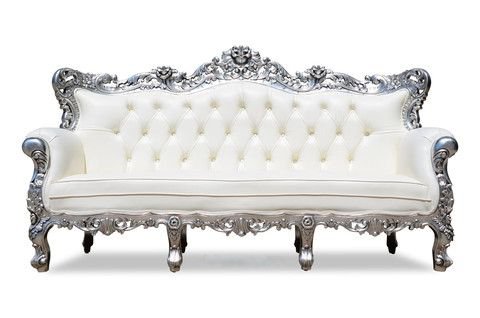 Silver is a very beautiful and precious metal. Since ages silver furniture has been considered as a status symbol in society. The etched wooden structure is coated with a pure silver sheet. The sheet is flexible which makes it easier for coating over deep carvings without any cracks. The silver furniture is famous since the time of royal kings and emperors of Rajasthan.
We manufacture wooden carved sofa according to customer preferences, suiting their home decor, their budget, their design preferences, their choice of upholstery, and more. We are suppliers to almost every country in the world. So it is no difficult to sustain our ethnicity to different parts of the world. We take care that our customers do not face any inconvenience while buying from us in a different country. We make sure that the delivery is 100% hygienic and also the products don't break during delivery. Our budget-friendly options are our USP. Handicrafts are always in demand and can never go out of trend.